Wooden Grooved Acoustic Panel
Merging the natural beauty of wood with contemporary design, wooden slate is created to allow easy installation and an elegant look. We ensure the use of high quality raw materials that will in turn improve the productivity of our products. To eliminate metal farming on our linear woods, we use clip rail systems that hold the nailed-in-place boards together. The clip rails are suspended from a deck to ensure that the boards are in place.

Installation Specifications for Walls/Ceiling
Providing and fixing Grooved Acoustical Slats Wood based MDF panels with linear perforations. The panels shall be surface FR grade B1 with melamine laminate in size 2440mm x 128mm x15mm type 28/4 i.e. having 28mm Strips and 4mm groove, Tongue and Groove edges for seamless mounting having density of 800kg/m3. The back of the panels are perforated with 8-10mm diameter circular holes with black acoustic fleece covering for providing Sound absorption. Panel is to be fixed with centre & edge bracket in tongue & groove system on 25 x 18mm cross channel [0.5mm thick] screw fixed at every 300mm c/c horizontal / vertical to G.I metal cross section [0.5mm thick] of 50 x 50mm which will be screw fixed to wall in proper line & level. Wooden slat will be backed with 50mm Sentetic Wadding 1000GSM which will be inserted within G.I. metal cross section of 50 x 50mm.
Specications
| | |
| --- | --- |
| Std. Size: | 2440 x 128 x 16 mm |
| Thickness in mm: | 16mm |
| Groove Distance: | 16mm, 32mm |
| Groove Size: | 4mm |
| Perforation: | 10mm |
| Density in kg/cuM: | 800 |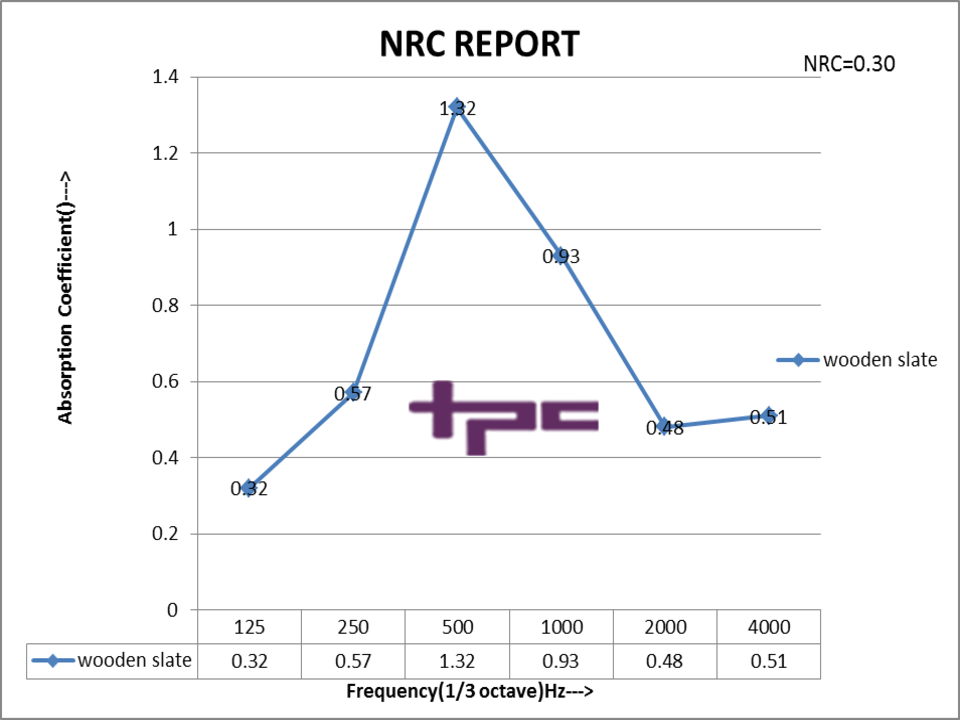 Different colours of Wooden Grooved Acoustic Panel: