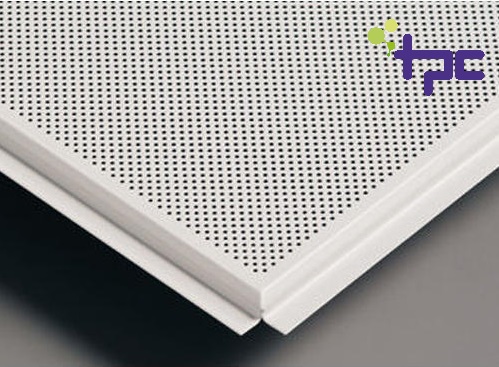 Perforated Metal Tile
Thermofriz offers a wide range of decorative metal tiles which can be of Aluminium as well as Steel. For Perforatated Tiles, the Dia will be of 2.5mm & Holes will be at 5mm c/c on a regular pattern.
These tiles are available in two types of coating:
Ø Power Coating (With 50 micron Polyester Poweder Paint on exposed side.)
Ø Coil Coating (With 20 micron coating on exposed side & 5 micron on rear side.)
Installation Specifications on Ceiling
Can be installed making the standard 24mm table exposed metal grid features main runners and Cross T rolled formed from galvanized steel. The Main & Cross runners to be provided with bayonet coupling for quick installation. Runner
Specifications
| | |
| --- | --- |
| Standard Size | 600 x 600 mm |
| Thickness | 0.50 mm |
Technical Specifications
Providing & fixing Thermofriz Acoustic 'Perforated Metal Tile' made from Modified Polyester Coated Galvanized Steel i.e. Z 120gm Zinc coating mass total of both sides & 275Mpa yield strength, on the exposed side & primer coating on back, coil coated on both the sides in standard shade with square or bevelled edges and flanges, produced on advanced equipment, which includes several leveling stages in the manufacturing process. Exposed side of tile shall have 20 micron coil coated polyester finish for steel and 5micron back coat of Alkyd primer. All tiles to be installed on a standard 600 x 600mm module 24mm table exposed metal grid and are precision made to within
±
0.25mm. There will be hole at 5mm & dia 2.5mm in a regular pattern for Perforation.